Xhorse VVDI PROG EIS Adapter/EZS Adapter  Kit Full Set 10pcs Free TNT Shipping
An New Set of 10 types EZS/EIS Adapters for your VVDI PROG specially designed for quick out jobs, no Soldering Required what so ever, perfect for Beginners and out jobs Work Teams.
This amazing 10 piece kit makes removing MCUs or soldering wires onto the PCB a thing of the past.
Simply push down and clamp the EIS on to the correct adapter and plug into a VVDI Prog device to get a perfect read every time and within seconds.
This takes away all of the worry and stress of those already complicated and timely Mercedes jobs.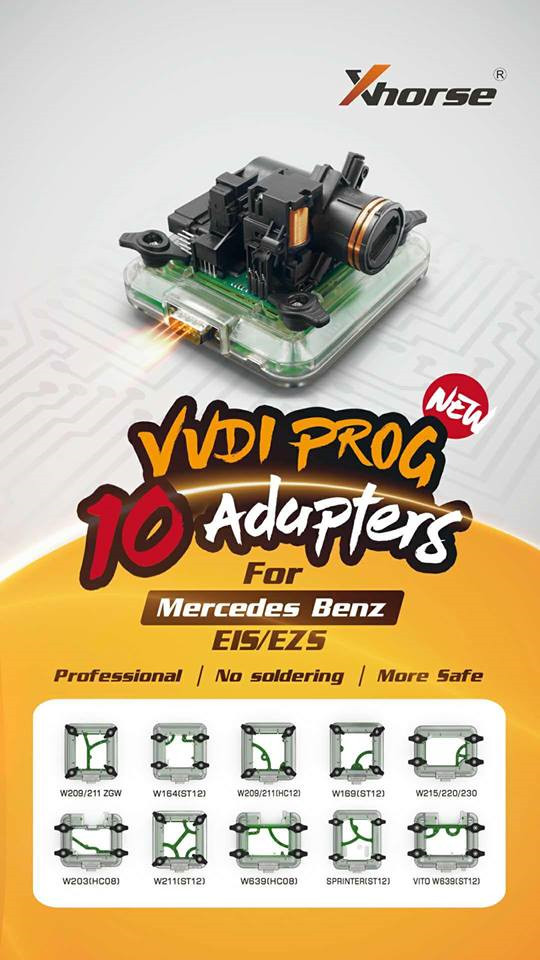 10pcs VVDI EIS/EZS Adapter listing:
for W164(ST12),
for W169(ST12),
for W203(HC08),
for W209/211(ZWG),
for W209/211(HC12),
for W211(ST12),
for W215/220/230,
for W639(HC08),
for SPRINTER(ST12),
for VITO W639(ST12).
1, don't need to solder
2, read data perfectly
3, Can be external power to light when working
4, easy to operate, Transparent material, better to Observe.
VVDI-PROG EIS/EZS Adapters Pinout: